Studio room in the apartment "Metro-Admiralteyskoe"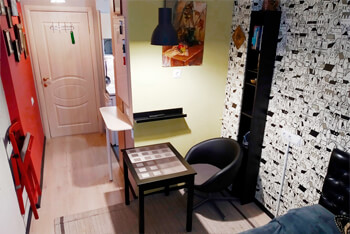 The cost of the studio room
The price for the room (rubles per day)
| | |
| --- | --- |
| Winter season from 1 October to 28 April | 2 500 |
| May, September, October | 2 700 |
| July, August, May Day: (29 April to 10 May) | 4 000 |
| June - during the White Nights, New Year's Day: (30 December - 8 January) | 4 500 |
The cost of accommodation is given for individuals. For corporate 20% more expensive.
Restriction:
Minimum booking in winter is 2 days, in summer 4 days.
3D tour of the apartment "Metro-Admiralteyskoe"
Near the Hermitage our apartment "Neva View" opened a new branch, called apartment "Metro-Admiralteyskoye".
There are five studios for 1 or 2 persons in the branch. Studios are convenient for long accommodation because each studio has a toilet with a shower; a complete kitchen with a stove, a refrigerator, a microwave, a sink and a kettle; a sleeping zone with a double Swedish sofa or two separate beds; double beds - folding Swedish sofas, 160 cm wide, a flat mattress 20 cm thick; a dining table, a table for studies, a wardrobe, TV, high-speed wi-fi. In the common area there is a washing machine, free of charge.
Also you can book theater tickets here, without prepayment.
Address of apartment "Metro-Admiralteyskoe"
Kirpichny Lane, house 3. Entrance to the courtyard through the arch, from the metro station "Metro-Admiralteyskoye".
Meals in the branch "Metro-Admiralteyskoe"
There is the round-the-clock dining room and five cafes, which represent kitchens of the different countries.
Meals are not included in the room rate.
Each room includes the personal kitchen. There are numerous 24h supermarkets around, smaller ones just around either corner and bigger ones just a block away on Gorohovaya street.
BOOKINGS are possible only starting from three days in summer and two days during the winter season by phone:
+7911-912-73-38 or by e-mail mrs.volivach@gmail.com
How to get to the apartment "Metro-Admiralteyskoe"
1. Metro, purple line, station Admiralteyskaya. From the exit - to the right, the house next door, Kirpichny Lane the house 3, in an arch.
2. From the Moscow railway station – trolleybus №5 and 22, the bus №22, 27, 24. A Stop Malaya Morskaya-Admiralteyskaya subway.
3. From the Ladozhskiy railway station, a bus №24, A Stop Malaya Morskaya-Admiralteyskaya subway.
The full text of the rules of accommodation in the hotel you can see here.
 
Type of service
Price
 
Washing machine

One wash - 200 rub.

 
Internet/ WI-FI
Free
 
Non-smoking room
Free
 
Breakfast
Kitchen in a studio room
24-hour canteen in the building
 
Booking and purchase of tickets to the theater and evening activities
Free, On request
 
Iron
Free
Shower room
Free
Bathrobes and slippers

On request


The cost of slippers - 150-200 rub., bathrobes - from 1000 rub.
HOW TO CHECK IN at the apartment "Metro-Admiralteyskoe"
"Metro-Admiralteyskoye" bed-and-breakfast apartment is located near Nevsky Prospekt in a closed courtyard. In order to enter our yard, you need to open the gate, which can be only opened with the magnetic key. Every guest will receive this key during check-in.
Therefore, when you arrive at our address: Kirpichniy Lane 3, please call +7911-912-73-38 or send a message to this number stating that you arrived. We will meet you for the first time at the gate, then you will receive the keys and you will be able to enter our bed-and-breakfast at any time of the day or night.
ACCOMMODATION WITH FLUFFY PETS IS NOT ALLOWED